A year ago 25,000 people marched through Edinburgh calling for stronger action on climate change, part of marches and rallies involving 40,000 people all across Scotland. The impact was almost immediate – in the following week the Scottish Parliament passed a new Climate Act, with the climate minister strengthening the targets in it just hours before the vote.
Perhaps the most remarkable feature of the climate march was that it was organised by school children. The Scottish Youth Climate Strike group are part of the global Fridays for the Future movement started in Sweden by Greta Thunberg a year earlier. Initially it was just her protesting outside the Swedish Parliament, now Fridays for a Future has become the largest youth-led movement ever to exist.
The marches and rallies in Scotland on 20th September last year were part of 4,500 similar activities in 150 countries around the world. An estimated seven million people, children and adults, took part.
It is not surprising that children have risen to the challenge of calling for more action on climate change. It is, after all, their future that we adults are making such a mess of.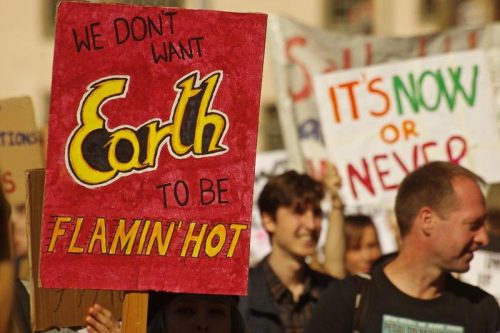 In our locked down, COVID-obsessed world, it is almost impossible to recall the amazing, inspirational feeling of marching through sunny Edinburgh with all those people, in an event several times bigger than any climate gathering so far in Scotland. Of course, the climate emergency has not gone away, in fact it has got worse, as the wildfires in California and the Stonehaven rail crash remind us.
Despite the pandemic, the Fridays for a Future movement has kept going with online and sometimes physical demonstrations on Fridays. This Friday the youth strikers are going to be (carefully) out in force again. Around the world there are nearly 2,500 events planned from Alaska to New Zealand and from Cameroon to Siberia.
Coronavirus means there will be few marches this time but there will be rallies, demonstrations, strikes, banner drop and stunts aplenty, as well as online events.
Climate Strikes 2020 in Scotland
In Scotland there will be a socially-distanced rally outside the Scottish Parliament as well as events in at least Fort William and Inverness. Because of the current coronavirus restrictions there will be no physical gatherings in Aberdeen or Glasgow but there will be online activities for people there.
Last year's Scottish focus was on tougher targets and more action in the Climate Act, this year it will be about delivering a Green Recovery, with specific demands to kickstart a programme of public green job creation and to stop any public money going to fossil fuel developments.
With a coronavirus recession brewing many young people face a grim time when they leave school, so a boost for green jobs would help them directly as well as being vital to address climate change.
Sometimes children get accused of backing simplistic solutions, but I find that, because they are not bogged down by years of tediously nuanced debate, they can often cut straight to the heart of a problem and to its solutions. Such is their second demand, it is burning fossil fuels which is causing climate change, so as a first step let's stop supporting them from the public purse.
Greta Thunberg has spoken at the UN and the World Economic Forum. The Scottish Youth Climate Strikers have met the First Minister and given evidence to parliamentary committees. Politicians of all stripes would do well to remember that neither climate change nor the massive concern about it among young people have gone away.
This Friday, if you can please join your local event, live or online.
A version of this article appeared in The Scotsman on Tuesday 22 September 2020