A new 'State of the UK Climate' report from the Met Office looks at UK weather in 2017 and how it has been changing over recent decades. It gives a clear picture of the impact that climate change is having on temperatures and rainfall, a message very much reinforced by this year's heatwave here and around the world.
Increasing UK temperatures
2017 was the fifth warmest year on record for the UK and nine out of 10 of the warmest years in the UK have been since 2002, with the last decade nearly a degree centigrade warmer than the 1961-1990 average. The last decade has also been 11% wetter than the long-term average in Scotland.
This summer has continued the trend of extreme weather, with a prolonged heatwave through May, June and July. This May was both the warmest and sunniest Scotland has ever recorded and the 28th of June saw the hottest day ever north of the border, at least unofficially.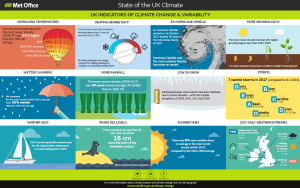 This weather has seen crops wilting in fields, trains running at reduced speed and water shortage warnings issued, with government help needed for people whose private water supplies had run dry.
The European heatwave of 2003 killed 70,000 people across the continent and this week a new report from Westminster warned that these kind of temperatures could become the new norm, endangering the lives of 7,000 elderly or ill people in the UK every year by 2050.
Record-breaking global temperatures
As global temperature records tumble, the rest of the world is feeling the heat even more than we are. Wildfires in Greece, Sweden and California have claimed scores of lives, and the heatwave was declared a national disaster in Japan. In Nawabshah in Pakistan the last day of April reached a record-breaking 50C and a drought in Afghanistan threatens to deprive 1.4 million people of vital crops.
The weather is sending us very clear signals that our climate is changing in major ways. As records break we enter new territory for planet and we should be worried. Some extra summer heat is no doubt welcome for many but the bigger picture is of more energy in the global atmosphere leading to bigger storms, more floods and more severe heatwaves. And as we keep driving up the planet's temperature there could be so-called 'climate surprises' or feedback loops such as permafrost or undersea deposits releasing huge bursts of extra climate-changing gases, creating yet more temperature rise.
Time for action in Scotland
We are already committed to more climate change because of the climate pollution we have already emitted over the last several decades. To avoid the worst consequences of climate change, especially those climate surprises, we need to reduce the climate emissions from transport, industry and farming as rapidly as possible. There is very little time left.
We need stronger ambition to reduce emissions from all nations, but in Scotland we have a particular opportunity with a draft climate change bill being debated in the autumn. Politicians from all parties need to use this opportunity to ramp up action throughout the next 10 years, moving us rapidly towards a fossil-free Scotland.
As the summer heat fades from memory we need to make sure our MSPs remember the climate emergency and act upon it with the urgency required.
You can email your MSPs now to ask them to increase our climate ambition  [button link="https://act.foe.scot/climate-zero-2040″] Take Action [/button]